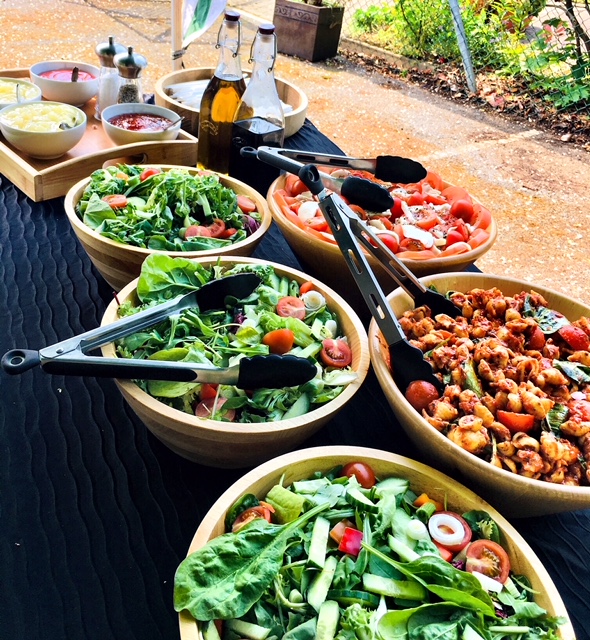 We have been catering in this county for a number of years and we are very proud to be the leading provider of hog roasts in Hampshire. On the journey from our humble beginnings to where we are now, we have loved every minute of it and the Hog Roast Hampshire team are continually going from strength to strength. We have never been a team who have rested on our laurels and this has helped us to stay ahead of the competition all these years. We are always devising new and exciting dishes to add to our extensive repertoire in order to provide comprehensive catering solutions for any type of event. Our creative catering team aren't just experts in producing the most delicious hog roasts in Hampshire – we all possess a very well-rounded skillset that enables us to prepare a vast range flavoursome and diverse dishes that appeal to the varying needs of our clients. Providing such a wide choice of other options in addition to our beloved hog roasts means that we are equipped to offer optimum catering solutions for any occasion in Hampshire, in any type of outdoor or indoor setting.
Hog Roast Catering in Hampshire
Given Hampshire's natural beauty and varied landscape, it is hardly surprising that this county attracts over 4 million tourists a year. Not only is the medieval city of Winchester the historic hub of Hampshire, it also has the dramatic South Downs National Park on its doorstep, whereas Portsmouth is the epicentre of Britain's maritime heritage and Southampton is also a haven for boat enthusiasts. Hampshire also boasts the New Forest National Park for those
who prefer more rural pursuits, as well as the lovely Solent coast and its abundance of beautiful beaches. Hampshire is a fantastic county in which to live, work and visit and here at Hog Roast Hampshire, we feel incredibly privileged to be able to provide catering services in such an interesting and attractive region. We thrive on the variety of catering assignments we get and the locations we are required to cater in, and we travel the length and breadth of Hampshire on a regular basis to provide fabulous food for an eclectic range of events. What makes catering in Hampshire even more exciting for us, is the fact that nowhere is off limits for us when it comes to event catering. Thanks to the versatility of our catering equipment and our multi-skilled team, we are able to cater in all manner of lovely environments in Hampshire, whether it be the city, coast or countryside. Hiring us to cater for your event will enable you to fulfil your ambition of hosting your event in your dream location without having to worry that the quality of the food will suffer as a result. We are able to cater to an excellent standard in any location for any type of event so, if you are planning an idyllic wedding reception with a sea view, a nautical-themed outdoor event for a local festival, a cosy countryside party or you require corporate catering in a city centre location, the Hog Roast Hampshire team are able to do it all in style!
Locally sourced produce
As well as being rich in history and stunning scenery, Hampshire is also brimming with fabulous produce, ranging from meat and seafood to cheese and homegrown fruit and vegetables. The Hog Roast Hampshire team take great delight in the multitude of superior locally sourced ingredients that we have available to us and we ensure that only the very best produce is used in all of our dishes. Our signature pork and range of alternative meats are always carefully selected from suppliers who utilise very strict ethical production methods and we are just as stringent in the selection of all of our other ingredients, from our fruit and vegetables to our free-range dairy products and locally made baked goods. So it goes without saying that if you hire us to cater for your event in Hampshire, you and your guests will be guaranteed the highest possible quality of ingredients in every aspect of your menu, and what's more we will prepare all of your dishes on-site on the day, and treat you to the freshest fare imaginable!
Interested in finding out more?
If you love the sound of our catering ethos, our ability to cater in any location, and our commitment to providing the highest standard of freshly made food, and you would like to learn more about our event catering packages, please take a look at our menus pages to whet your appetite or feel free to get in touch with the Hog Roast Hampshire team via email, the contact form on our website or by phone, whichever you prefer. We would love to have a chat with you about your event catering needs in Hampshire and work with you to devise your dream menu for your event, and we look forward to hearing from you soon!